VIDAK
VIDAK is one of New Zealand's leading manufacturers and suppliers of commercial office furniture, providing total fit-out and installation solutions. Snook Design has had the privilege of working with them (since 1996) on a number of the furniture systems they manufacture. Among others, these have included the 'Spirit' and 'Motion' ranges, with the vast majority of the components and assemblies being designed and 3D modelled by Snook Design.
| | | |
| --- | --- | --- |
|                    | | |
|   |                    Spirit System |                Motion System |
Although operating as an independent contractor (in an anonymous capacity at the time), Snook Design worked closely with Vidak's Management, Marketing and R & D personnel plus interior design specialists to develop these furniture systems, attending regular Product Development meetings throughout the design process.

Snook Design was involved in all aspects of the design process and responsible for:
Concept Sketches
Conceptual 3D Models
Final 3D modelling of individual components and assemblies
General Arrangement E-Drawings for design evaluation
3D files for rapid prototyping
Detailed/dimensioned manufacturing drawings, 2D DXF files & 3D model files (for tooling & machining)
The spectrum of manufacturing disciplines covered in the design of these systems includes:
Pressure diecast aluminium and zinc components
Injection moulded plastic components
Aluminium and plastic extrusions
Sheetmetal and steel fabrication
C.N.C. machined steel components
C.N.C. routed wood/composite materials
The finished products resulted from a combination of: good communication; creative and innovative thinking; sound engineering; attention to detail and precise execution of the design.


Client Testimonial:

"Noel Snook (of Snook Design Limited) has been one of the factors that have helped Vidak reach its position in the New Zealand market and produce products that now sell world wide."  Mike Vidak, Director.  (Read the full client testimonial here).
Take a few minutes to see how the design principles were applied to one of these projects by viewing the details below.
Whatever your next project... Snook Design can assist.
---
Spirit System
Desking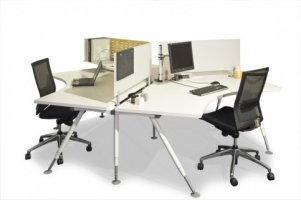 3 way 120 degree desk pod
The Spirit system was originally designed for Air New Zealand to meet their specific and extensive requirements brief, but the system was rapidly developed and expanded to suit a wider range of market applications.
For a quick overview of how innovative design contributed to the overall flexibility and success of the Spirit system, check out Vidak's excellent 3D animation video. It covers both the desking and storage elements, and is well worth a quick watch.
Product Versatility
One of the main requirements of most office furniture systems is flexibility and the ability to install and reconfigure layouts quickly and easily. The innovative design of key components in the Spirit system helped Vidak achieve this objective. One such set of diecast components makes up the 'Multi-Connector' (the junction for connecting the main beam extrusions of the desks) which Snook Design developed to be assembled in a number of different configurations. This allows desks to be arranged in various numbers and layouts. (ie: 3 way 120 degree pods or 2, 3 & 4 way 90 degree pods, etc). It is a case of a minimum number of interchangeable components achieving a multitude of tasks and functionality.
Multi-Connector Components                                                                  Various Multi-Connector assembly configurations
Other components and connections were also designed with multi-purpose adjustability in mind. The Leg Mount casting allows desk or table legs to be attached in a variety of positions and angles. The desk's main beams attach to the ends of this casting via a clamp component. The Beam Tee Connector enables 90 degree desk returns to be attached anywhere along the main desk beams.
                  Leg Mount Casting                                                                                                                               Beam Tee Connector Components
 
Desk Legs
The Desk Legs are produced in a number of different configurations to meet various requirements: Vertical and Angled (15 & 30 degree), Height Adjustable or Fixed Height, with Glides or with Castors, etc. Snook Design provided an innovative design solution for the Leg Adjuster components (consisting of two plastic mouldings and the grooved/graduated steel shaft), enabling Vidak to obtain a patent on this feature.
Leg Adjuster                          Adjustable                                                         Adjustable With                                                   Fixed Height
Components                         With Glides                                                         Glide & Castor                                                      With Glides

Accessory Rail
The Accessory Rail is another area where catering for different options is key. It can be desk-top or beam mounted and can be used with or without screens. When screens are used, the components are designed to allow different screen materials and thicknesses to be used (depending on the client's requirements), by simply swapping the small plastic mouldings and plastic extrusions. (The main components remain the same). The Accessory Rails are also 'stackable' (up to 3 high) for a wider range or quantity of accessories to be included.
 12mm screen panel option (above) and 6mm acrylic option (below) 
Storage
| | |
| --- | --- |
| | |
|  Straight desks and storage units |   |

The same approach, of flexible design, was also applied to the storage elements. The system consists of storage cubes, main cabinets (in a variety of options) and cable management modules. (As shown above). The cable management modules carry power and data cabling and can be installed either above or below the main cabinets, depending where the power/data outlets are required. Snook Design conceived a unique connection method for the storage cubes and main cabinets which allowed them to be quickly arranged and locked together. This was achieved via plastic collars, clipped into fixed positions in the cabinetry, and a removable 'locking barrel' for joining/fixing the cubes and cabinets to each other.
 Plastic collars clip into cabinet panels. (Only partial panel shown)

The Locking Barrel is inserted and turned 90 degrees to lock the cabinets together.
The Cabinet Corner moulding is another critical component in the overall assembly of the cubes and cabinets. What appears deceptively simple, smooth and clean from the outside conceals a substantial amount of engineering detail on the inside. Used in conjunction with some proprietary furniture hardware components, the corner moulding contributes significantly to the ease of assembly.




The Cabinet Foot assembly utilises a multi-fit mounting plate which allows the foot to be fitted on a cabinet corner, for end cabinets, or as a 'bridge' across adjoining cabinets, depending on which hole sets are used. 

To learn more about Vidak and their products, visit their website: www.vidak.co.nz